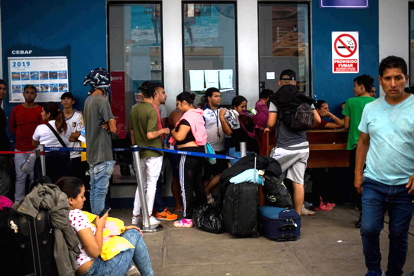 (above) Venezuelan migrants wait for processing before crossing the border between Ecuador and Peru. Experts predict nearly 8.2 million Venezuelans will have been displaced by social and political unrest in their homeland by 2020, and Peru likely will remain a major destination for resettlement.
As Peru welcomes Venezuelan refugees, its immigration system is overwhelmed
August 20 2019 - Tucson Sentinel

LIMA, Peru – As more Venezuelans fleeing the economic and political crisis in their homeland arrive daily in Peru, the Peruvian government readily acknowledges it can't keep up with the applications for temporary or permanent residency.
"The situation changed our life," said Roxana del Águila Tuesta, Peru's national superintendent of migrations. "Before, we didn't have this immigration situation in Peru."
By March, more than 700,000 Venezuelans had entered Peru and an estimated 161,000 had applied for political asylum — a protective immigration status that can lead to legal permanent residency, according to the United Nations High Commissioner for Refugees (UNHCR). As of mid-March, fewer than 700 had been granted.
"It seems like a small number," said Regina de la Portilla, the public information officer for the UNHCR in Latin America, "But you have to bear in mind that Peru is not a country used to receiving asylum seekers, so their system was small in scale."
In fact, historically, people were more likely to leave Peru than move there. A disruptive war between the government and the Maoist group Shining Path in the 1990s and early 2000s — along with poverty, especially in rural areas — spurred 2.4 million Peruvians to migrate over the past 22 years, according to the International Organization for Migration.
In a role reversal, Peru now hosts hundreds of thousands of Venezuelans looking for relief from the turmoil in their own country. In doing so, Peru also has become an example of how to handle migrants in a welcoming, humanitarian way, according to international aid workers U.S. Embassy officials in Lima.
Still, Peru faces major challenges in dealing with the influx, and its immigration system has only processed a small fraction of the migrants who have arrived since 2015. Meanwhile, numbers continue to grow and have overwhelmed the system. By 2020, according to the Organization of American States, there will be up to 8.2 million displaced Venezuelans worldwide, and Peru is expected to remain a major destination for resettlement.
In early 2017, as the number of migrants increased, the Peruvian government began offering Venezuelans the Permiso Temporal de Permanencia (PTP), a temporary residency permit that allowed them to work. Popular among displaced Venezuelans, the PTP grants them the chance to obtain their greatest collective need: income.
Eventually, the Peruvian government set Oct. 31, 2018, as the cutoff date to get a PTP. Newly arriving Venezuelans have three options: apply for asylum, which could open a path to permanent residency; apply for a tourist visa; or remain undocumented.
To complicate matters further, not all Venezuelan migrants will qualify for asylum, even if they apply.
The government in Lima follows the international laws set by the 1951 Refugee Convention of the Geneva Conventions, which determined that asylum is granted to refugees, or individuals who must flee their native nations to escape conflict or oppression and fear persecution based on race, religion, nationality, political opinion or social group.
Peru is additionally bound by the 1954 Caracas Convention on Diplomatic Asylum, a regional agreement that recognizes the rights of Latin American countries to grant political asylum to those who request it.
Asylum seekers in the country must satisfy the terms of either the Caracas or Geneva conventions.
De la Portilla encourages interested migrants to apply for asylum because of the benefits offered.
"As soon as you're an asylum seeker, you also have the right to work legally, formally, as well as study, so you can remain in the country regularly,' she said. "And then, of course, be patient because we're talking about 161,000 people going through a process where they actually sit down and discuss case-by-case. So people need to be patient and understand that the system is doing everything they can to move as fast as they can."
Many Venezuelans don't apply for asylum because they don't think it's attainable.
Most have either been granted the PTP or are awaiting action on their applications.
Others remain in the country illegally with minimal threat of deportation — at least until recently. In April, for the first time, Peru deported more than 40 individuals back to Venezuela for either not disclosing criminal records during their residency application processes or staying in Peru illegally, according to a statement by Interior Minister Carlos Moran.
For the time being, government officials are standing by the current immigration system.
"We do not think about changing the process because that would mean changing the whole structure of our foreign policy," said Ambassador Enrique Bustamante, who serves as director-general of Peruvian communities abroad and consular affairs within the Ministry of Foreign Affairs, "and the design and management of what it means to manage an immigration flow of that magnitude."
The government is focused on the extensive backlog of those who have applied for the PTP and asylum. A branch of Peru's Ministry of Foreign Affairs, the Special Commission for Refugees, is in charge of the national asylum process.
With up to 400 requests submitted daily in Lima, the registration system has malfunctioned often. After receiving aid from the UNHCR, the government recently launched an updated registration system to better manage the number of applications. A preregistration procedure at the Peruvian border also was established to determine the most at-risk migrants. The process includes distributing preliminary paperwork to asylum seekers for their initial entries and eventual claims processing.
Those seeking asylum must prove their cases. If declined, their appeals are handled in either the capital city's office or one of 11 locations across Peru.
Robert Mujica, 46, and his family are among those Venezuelans working their way through the asylum process.
His life in Lima is starkly different from the one he left behind. The hotel manager tries to maintain a sense of normalcy in his day-to-day routine by relying on his family and practicing taekwondo.
Mujica is from Maracay, Venezuela, the capital city of the state of Aragua. Before migrating, the rise of the violent gang El Tren de Aragua in the area had worried him. In December 2013, he said, his nightmare became a reality. Upon returning from the Pan American Open International Tae Kwon Do Championship in Mexico, he said, criminals held the family hostage in their home. Mujica did not elaborate, only saying that, after surviving the ordeal, he made up his mind to leave Venezuela.
The initial plan was to flee to Canada or Iceland. Everything changed, however, when Mujica and his daughter Roima were selected to represent their nation as athletes for the 10th World Tae Kwon Do Poomsae Championships in Lima.
"This was to change our whole world," Mujica said.
When they arrived in August 2016, they decided to stay and work to send money back to relatives still in Venezuela. For Robert, this meant sacrifice. He forfeited the air-conditioning company he owned back home, left his coaching position at an academy and paused his athletic career. Physically separated from his wife of 23 years, he said his marriage "seemed like a hurricane," considering the trials and tribulations they faced.
In May 2017, Mujica boarded a flight bound for Venezuela. His mission was to reunite with his family and journey back to Lima for a fresh start together. Traveling with his mother, wife, young son and small dog, the family alternated between walking and riding buses.
Once in Peru, they grappled with another hurdle — should they apply for asylum? At first, the social implications of seeking asylum made them uncomfortable. As sports figures, they knew such political actions could trigger disapproval from their peers and the public. Eventually, they decided it was the right move.
"Now, we feel pretty comfortable in our new life as refugees and in this environment because it's a lot more calm," said Roima Mujica, 24. She is now a taekwondo instructor in Lima and studying physical therapy and rehabilitation at a university. Presently, she, her father, her grandmother and her younger brother are considered asylum seekers. A government interview stands between them and the coveted protective status.
"We left Venezuela on our own; we volunteered," Robert Mujica said. "While I'm living my life here, I'm Peruvian."
The next obstacle in his path is a recent medical diagnosis of a complex heart problem. Mujica said that, considering the struggles of the past few years, his family yearns to finally find peace. He is grateful for the opportunities given to him and his family in Peru. He remains hopeful of a better and brighter future for his native country and its people. His children look forward to the day they can return and join a generation of Venezuelans in rebuilding the nation.
"I dream of going back to a free Venezuela," said Robert Mujica, 14, his father's namesake and a sophomore in high school. "I'm going to visit my home and remain there. This sounds better than anything."
Young Robert's dream of returning to his homeland is one shared by many migrants in Peru and it affects their decisions on applying for asylum.
Thanks for reading TucsonSentinel.com. Tell your friends to follow us on Facebook and Twitter.
Wilson Floras, 34, spends the majority of his afternoons under the shade of a blue canopy tent, overlooking the crashing waves of the Pacific Ocean — a far cry from the views in his hometown of Ciudad Guayana, in the Venezuelan state of Bolívar.
Employed by Team Surf Peru, Floras is one of many Venezuelans working for the surf shops on the rocky Miraflores coast, offering lessons to passersby.
In October 2018, Floras made the decision to depart his native country on a bus, crossing through Colombia, then Ecuador, with Lima as the final destination. The political instability pushed him to his tipping point, fearing that his future would be compromised if he remained in Venezuela.
He describes his experiences in Peru as generally positive, and he's appreciative of the benefits extended by the government.
"Honestly, Peru has given Venezuelans roads to legalization and for finding job opportunities here," Floras said.
He traveled into the nation with the last phase of migrants eligible for PTP, which expired three days after his arrival. His application was approved.
The state permit lasts one year, granting Floras and other Venezuelans legal eligibility to work. However, he has no intention of requesting asylum to get permanent residency.
"I want to return to Venezuela, and asylum wouldn't let me leave Peru," Floras said.
"We want all Venezuelans to be able to return and for there to be opportunities as there were many years ago."
Venezuelans still have choices — even if asylum status is not a possibility, de la Portilla said.
A new legal status might be in the works for migrants. Representatives of the Peruvian government said they were considering establishing a "humanitarian visa" that would allow a one-year stay.
Another alternative includes the Carnet de Extranjeria (CE), also known as the foreign resident card. It certifies the foreign recipients as legal residents of the country who are eligible through either working in Peru or marrying a Peruvian.
However, César Ruíz of the aid group Encuentros SJS (Servicio Jesuita de la Solidaridad) suggests that, while the government ensures these benefits in theory, it frequently fails to meet its obligations.
"The only thing the state does is guarantee access to documents," he said. "The state still has difficulties guaranteeing rights, like education, health, food, housing."
Ruíz, who serves as the coordinator of the non-governmental organization's human mobility program, is doubtful that Peru can address the issues newly arriving Venezuelan refugees face because of "the inability we have as a state to solve our own problems" — problems that he doesn't believe will be settled any time soon.
The challenge of dealing with a continuously growing migrant population is overwhelming. Ambassador Bustamante acknowledged, "Definitely no country in the world can be prepared to receive in a span of 18 months a million people."