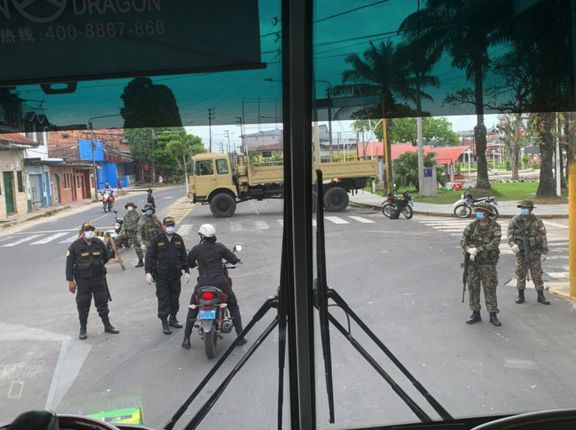 (above) On the bus ride to the Iquitos airport, Kristen Snyder, an American who was previously stuck in Peru after the country went into lockdown, snapped a photo of her bus passing through a checkpoint guarded by military and police officers. (Photo courtesy of Kristen Snyder).
Orlando woman still stuck in Peru after 2 months of coronavirus lockdown. 'There's no hope'
May 10, 2020 - Original article: Orlando Sentinel
By Katie Rice, krice@orlandosentinel.com
On the bus ride to the Iquitos airport, Kristen Snyder, an American who was previously stuck in Peru after the country went into lockdown, snapped a photo of her bus passing through a checkpoint guarded by military and police officers. (Photo courtesy of Kristen Snyder).
Giovanna Adams, 71, flew to Peru in early March to sell a house she owns there, expecting to return home to Orlando before the month's end.
Instead, she found herself stuck indefinitely in a locked-down country, suffering from chronic medical conditions and without winter clothes as Peru's seasons change.
She is one of thousands of Americans who have been stranded in Peru after the country closed its borders in mid-March due to the COVID-19 pandemic and one of potentially 10,000 who were left behind by various government- and nonprofit-chartered repatriation flights.
Even if another government-chartered flight were to become available and had open seats, Adams said she could not afford to repay the $2,000 plus interest the U.S. government is charging for flights.
"I've sent messages everywhere I could," she said in an interview translated from Spanish. "My family is worried about me. ... The situation is very exasperating. I need to return home; I need to see a doctor."
On April 23, President Martín Vizcarra announced the country's State of Emergency would be extended until May 10, and that the country would begin to reopen gradually starting May 4. But on Friday, Reuters reported that the lockdown had been extended to May 24.
The country's government issued a decree May 3 outlining plans for reopening Peru's economy in four phases, with tourist transportation services for "essential activities" reinstated during the first stage in May. The decree did not specify which services were considered essential.
Valerie Edmondson-Bolaños, founder of Warrior Angels Rescue, a nonprofit that is working to evacuate American citizens out of Peru, said she has not heard details about Peru's phased reopening and how it may affect repatriation efforts.
"The pattern has been that they will announce the quarantine for two weeks ... and then at some point during those two weeks, they announce that it's going to be extended," she said. "[Peru reopening] would be a game-changer."
Flight cost a hurdle
Edmondson-Bolaños and WAR have encountered numerous roadblocks in organizing repatriation flights with the U.S. government and American and Latin American airlines.
WAR-organized flights would be free for passengers thanks to fundraising efforts, but cancellations and delays have made Americans in Peru dependent on expensive, U.S. government-chartered flights through Eastern Airlines, she said.
A WAR flight originally scheduled for April 28 got pushed back to April 30 and ultimately canceled by LATAM, the airline Edmondson-Bolaños contracted. Passengers, including Adams, had already checked their baggage and were waiting to board when they were told the flight was canceled.
That same flight was tentatively rescheduled for May 5 and canceled again.
Edmondson-Bolaños said she knows of an older American man who contracted the coronavirus in Iquitos, Peru while waiting for a repatriation flight. She said she has heard of others becoming sick or going bankrupt while waiting for flights.
WAR has organized successful flights within Peru for repatriation efforts, transporting Peruvian, American and other foreign citizens from rural areas to major cities like Lima. The Peruvian government has collaborated with these plans, she said.
(below) April 1, 2020.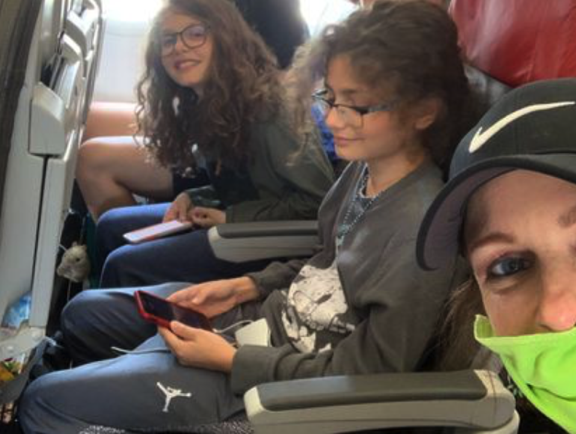 Edmondson-Bolaños said she has communicated with embassies from India, South Africa and France to help repatriate their citizens, but the American government has given her the most trouble during the repatriation efforts.
"The reasons for that are clear to me, because all these other governments are covering the cost of repatriation for their citizens; they consider that something that their government should do in a time of crisis in order to get their citizens back home," she said. "... The U.S. is the only government that I know of that is attempting to take advantage of their citizens and residents and make money off of their desperation and suffering."
Edmondson-Bolaños said forcing American citizens to sign a promissory note for evacuation flights is a "socioeconomic filter" disproportionately affecting people who are already financially vulnerable, having lost money and jobs while waiting to leave Peru.
She also argues flights should not cost what the government is asking. The airline industry is experiencing low demand for flights and fuel costs are at a historic low, Edmondson-Bolaños said.
A State Department spokesperson in an emailed statement said the department does not set or control the prices of repatriation flights and offers loans to cover the cost of a flight for those who can't afford it. The spokesperson added that the government has worked "tirelessly" to bring more than 8,900 Americans back from Peru in the past eight weeks.
During a May 5 briefing, Ian Brownlee, principal deputy assistant secretary for the Bureau of Consular Affairs at the State Department, said he believed just under 10,000 Americans were still seeking assistance leaving Peru.
"It remains hard to tell exactly how many people there are out there," he said.
Growing debt, losing hope
Though Adams is Peruvian, she does not have a support system in the country and traveled there alone. At home in Orlando, she lives with her son, a Disney employee who is furloughed during park closures.
She said she has already maxed out her credit cards while waiting to leave Peru and cannot afford to sign a promissory note for a government-chartered flight.
"I'm going to be the only [financial] support in my house, and I can't go into debt," she said.
Adams is waiting for a flight at a hotel in Miraflores, a neighborhood of Lima, staying with two other Americans awaiting departure. WAR is covering the cost of their lodging and food for the time being.
Before Peru's borders closed, she had planned to return home March 23. Waiting for a flight is disheartening, she said, especially after she was so close to leaving when the April 30 flight was canceled.
Adams has been waiting to see a doctor for months for her bronchitis and chronic stomach pains, but Peru's hospitals are only open for emergencies due to the pandemic, she said. She is afraid of her health deteriorating further in Peru, but also feels unsafe going to local clinics.
"There's no hope of returning," she said.