1. Letter from Kevin's Family
2. Memories from a Mining Group 29 member
3. Kevin's Bio for Group 29 Peace Corps / Bolivia
4. Kevin P. Lynch: A Union Man For Life
=============================
Letter from Kevin's family...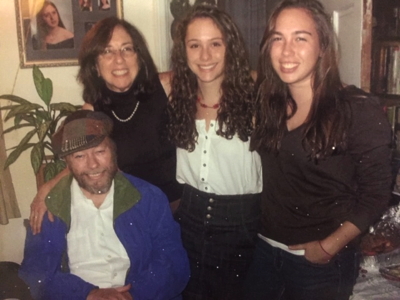 Our hearts are breaking. 
Kevin Patrick Lynch passed away this afternoon with his beloved wife at his side. He is fiercely remembered in the hearts of his loving family and dear friends, by his many comrades around the world, and by the thousands of workers whose lives he touched along the way. A deeply spiritual person rooted in Irish and Nordic beliefs, he has joined the generations of our family that stand watch in the Halls of Valhalla. 
Our family will be sitting shiva Sunday, Monday and Tuesday from 4pm to 8pm. 
We will be holding a memorial in honor of Kevin's legacy and life on Saturday, April 27th, 2019 and plan to honor him further on May Day (May 1st, 2019). 
If you wish to share remembrances and photos with our family, you can email us at rebeccadlynch@gmail.com . 
If you would like to make donations in honor of Kevin's legacy, you may consider donating to organizations he supported throughout his life: the Southern Poverty Law Center, St. Helena School in the Bronx, the United Farm Workers UFW, or in the form of dues to the New York Working Families Party. 
With love, 
Bernice, Rebecca and Sara
==========================
Kevin served in Peace Corps/Bolivia
in the "Mines Group" from 1967-69.
Memories from Don Beck, Mining Group 29.
We were the first and last "Mines Group" in Bolivia. It was a most intriguing time to be in the country.
Our group arrived mid-June 1967.
On June 24, 1967, government troops under the orders of General René Barrientos and a new military junta marched on the mine [Siglo XX] and committed the largest massacre of workers in Bolivian history. One witness and subsequent exile, Victor Montoya, put the casualties at twenty killed and seventy wounded.  The incident was the basis for filmmaker Jorge Sanjinés's 1971 drama The Courage of the People.
(Source: https://en.wikipedia.org/wiki/Siglo_XX)

Che Guevara was killed on October 9, 1967, in the jungles of Bolivia.
Our group was intended to work in the various government-owned tin mines. By the end of in-country training in June, the mines had been declared a military zone, with many miners jailed and troops in place. While politics of the "northern mines" were very heated, life in the "southern mines" -- higher and colder -- was quiet. Volunteers assigned to southern mines went in as planned, while the rest of us were given other assignments until things cooled down. And by December we were all placed in "our" mines.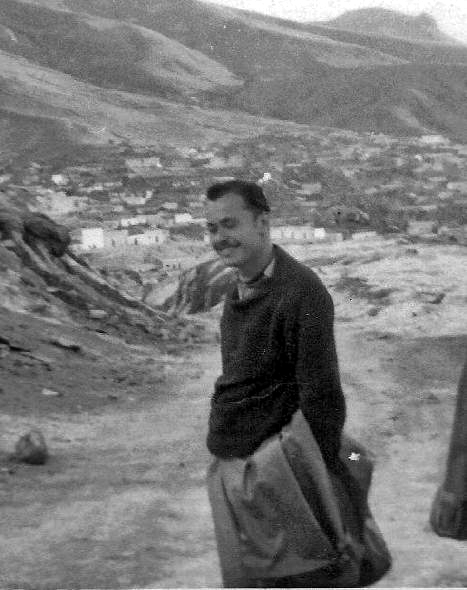 Kevin was assigned to Siglo XX mine at 13,000+ ft. altitude. Cotavi-Siglo XX was the largest mining complex under the state agency COMIBOL. As the most politically active of the mining areas, it was a place where Kevin was right at home: he was very good at working with all sorts of people and political situations.
Travel in and out of mining areas was kind of spooky, though, as soldiers stopped all vehicles to search them and check documents -- sometimes quickly, sometimes not. But, never a problem for Kevin, as he always charmed everyone. And at the time, people were generally friendly to us "gringos."
Kevin had a smile and devlish grin, with a much-caring-heart somewhat hidden in an otherwise brusque and unceremonious manner. It carried him through all situations.
Which was good because Kevin was always up to something! Mmmm. So many stories and shenanigans!
========================
Photo and Bio taken from Group 29 Training Booklet, March 1967.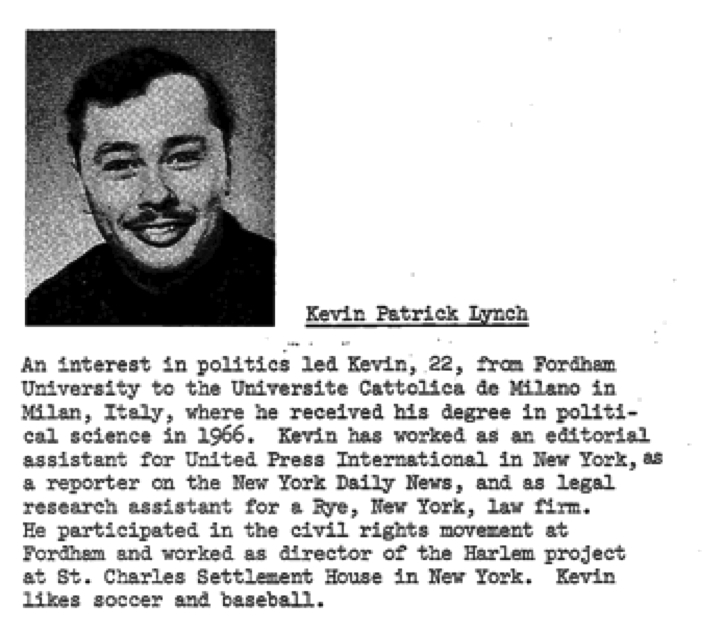 ====================================
Kevin P. Lynch: A Union Man For Life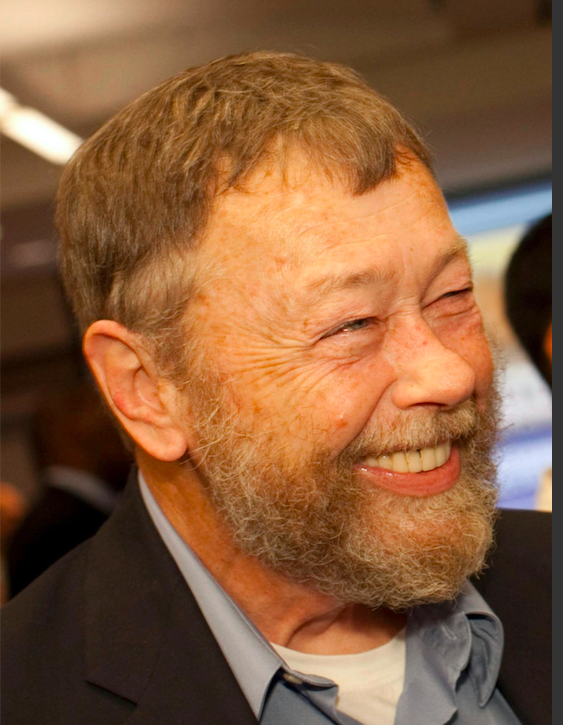 By Silver Krieger, April 8, 2019
New York, NY – Kevin P. Lynch, a longtime director of organizing and political action for major unions in New York and New Jersey, died on March 8, at the North Shore University Hospital in Manhasset, New York. He was seventy-three years old.
As a life-long trade unionist, Lynch contributed his hard work, insight and talents on behalf of working people in many capacities. Among the trade unions to which he devoted his organizing, political and strategic skills were UAW District 65, AFSCME DC 1707, the Teamsters Local Union 840, IAM District 15, RWDSU 338, CWA 1180 and the New York City Central Labor Council. Lynch was also engaged in worker struggles worldwide throughout his career and ultimately brought back May Day Rallies to New York City amplifying international worker solidarity and immigration rights.
As a founding member of the Working Families Party (WFP), Lynch was successful in partnering labor unions and community allies to refocus electoral politics, holding elected officials and politicians accountable to working families, both union and non-union in New York and nationwide. A lover of the arts and Irish culture and tradition, Lynch was a co-founder of the Irish Arts Center.
Lynch was a contributing author to the seminal work, "A New Labor Movement for the New Century". In addition, he pioneered the first national television program by and for organized labor, "People for Working People", and a produced a local radio program, "Americans at Work".
The Hon. Bernice D. Siegal, Lynch's wife of 31 years believes, "Kevin's determination came from fighting for Irish unification– to be free of political and capital oppression. That came in tandem with his Jesuit Education and work as an advocate for working people, from the mines in Bolivia and rice paddies of Viet Nam ultimately to the streets of New York."
His daughter Rebecca said, "My father was a union man: who paid dues for 50 years of his life, from when he worked as a longshoreman on the docks of New York in his youth and later trade magazine worker to his work as a union organizer for decades; who loved, honored and revered other working people and stood strong against those who harmed them; who organized workers– from factory workers to retail workers to drivers to movement workers to many more–managed their grievances, led strikes, negotiated contracts, and championed their causes all the days of his life."
"My Dad will always be my hero," Lynch's daughter Sara said. "He was brilliant, curious about the world, and endlessly compassionate. A literary man, my father would recite poetry from memory. 'God's in Heaven, all's right with the world!' he would often say; and add, 'an admirable way of engaging in a world that seems to be falling apart—with an ironic sense of wonder and a healthy dose of sarcasm.' Those who knew him know he was the fiercest advocate, who was always quick with a joke but had a tender heart."
A celebration of Kevin Lynch's life will be held on April 27, at DC 1707, 420 W. 45th Street, at 2 o'clock p.m.
Lynch is survived by his wife, Hon. Bernice D. Siegal of the NYS Supreme Court and Associate Justice of the Appellate Term; his daughters Rebecca Della Lynch, Deputy Director of the Working Families Party for the State of Wisconsin and Sara Alexandra Lynch, a Fellow with the Defender Association of Philadelphia; his sister Beatrice Mondare nee Lynch (Ralph Mondare), New Jersey and brother Patrick J. Lynch (Arlene Lynch), Ridgefield CT; his many nephews and nieces and by extension, his brothers and sisters in the many struggles and causes which were his life's passion.