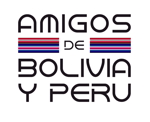 About Us
Mission / Fiscal
Board of Directors
Kantuta Fund
Join Amigos
Related
50th Anniv


News

Newsletter
Other
Photo Album
Links
AMIGOS DE BOLIVIA Y PERÚ
7327 University Avenue,
Glen Echo, MD. 20812
(301) 320-5068
boliviayperu@hotmail.com
Join Amigos

Amigos de Bolivia y Peru is the official membership affiliate group of the National Peace Corps Association (NPCA), representing Bolivia and Peru. While most of our members are returned Peace Corps Volunteers and/or Staff, membership in Amigos de Bolivia y Peru is open to anyone who supports our mission.

You may join Amigos at the same time as you join NPCA -- paying for both at the same time -- or you may join Amigos (only) directly. By joining Amigos directly (rather than via NPCA), you can take advantage of Amigos discounts for couples, students and retirees; you can join for more than one year at a time; and you can (and hopefully will) add a tax deductible donation to benefit our Kantuta fund. None of these options are available from NPCA. On the other hand, NPCA allows you to pay dues with a credit card; Amigos does not process credit cards.

To join Amigos when joining NPCA:
Go to http://www.peacecorpsconnect.org; from the home page, on the left, select "Join Today." On the Membership page, click the box saying "Join Now." Fill out the information requested. Join NPCA ($35 per person) and then, for your member group, select Amigos de Bolivia y Peru ($15). If your Close of Service (COS) was less than a year ago, your memberships in NPCA and Amigos de Bolivia y Peru are free for one year. Follow those instructions.


To join Amigos directly
Please print and complete our membership form which is provided here in: pdf format or Word .doc format -- download whichever you prefer. The printed form should be mailed to Amigos de Bolivia y Peru, 7327 University Ave., Glen Echo, MD 20812. RPCVs within a year of their COS can join Amigos free. Everyone else should include a check for the appropriate amount, made out to "Amigos de Bolivia y Peru." Do not forget to include in your check a tax-deductible contribution to our Kantuta fund, specifying to which country you want the money to be targeted.

If you do not have a .pdf reader, you can download one free from Adobe by clicking the button below.