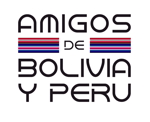 About Us
Mission / Fiscal
Board of Directors
Kantuta Fund
Join Amigos
Related
50th Anniv


News

Newsletter
Other
Photo Album
Links
AMIGOS DE BOLIVIA Y PERÚ
7327 University Avenue,
Glen Echo, MD. 20812
(301) 320-5068
boliviayperu@hotmail.com
Yachaspa Newsletters
Yachaspa is the Quechua word for Knowing, and is also the name of the quarterly newsletter of Amigos de Bolivia y Peru. While current year issues are made available only to our members, you are welcome to read the older issues of Yachaspa:
Past Issues of Yachaspa -- Click on issue to download

NOTE: Some .pdf files are more than 1 meg and may take 5-10 minutes to download on dial up.
These files are in .pdf format. If you do not have a .pdf reader, you can download
Acrobat Reader free from Adobe by clicking the Adobe button at left.

If you wish to submit an article or articles, please go to Submissions.