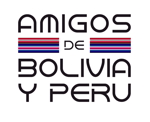 About Us
Mission / Fiscal
Board of Directors
Kantuta Fund
Join Amigos
Related
50th Anniv


News

Newsletter
Other
Photo Album
Links
AMIGOS DE BOLIVIA Y PERÚ
7327 University Avenue,
Glen Echo, MD. 20812
(301) 320-5068
boliviayperu@hotmail.com

National Peace Corps Association
Promote the vitality of the Peace Corps and the application of its values

Establish the NPCA as the essential resource for and about the Peace Corps community

Enable NPCA members to build upon and extend the Peace Corps experience and values by facilitating their engagement in global issues
Connected Peace Corps
Peace Corps Connect
Other NPCA Connections

MorePeaceCorps




This campaign seeks to organize and support expansion of the Peace Corps, to double its current size. This would include re-evaluating its definition and structure and will need the work of many to push for it.

Includes forums to exchange views.
http://www.morepeacecorps.org/


...



WorldViewMagazine
Quarterly articles of interest to RPCVs about US and World-wide activities. Online version as well as printed version. Membership in NPCA funds sending a printed copies to PCVs in-service as well as to the member. Printed subscriptions available to non-NPCA members.
Online: http://www.worldviewmagazine.com/

.




...





...