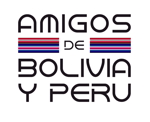 About Us
Mission / Fiscal
Board of Directors
Kantuta Fund
Join Amigos
Related
50th Anniv


News

Newsletter
Noticias
Yachaspas
Submissions
Other
Photo Album
Links
AMIGOS DE BOLIVIA Y PERÚ
7327 University Avenue,
Glen Echo, MD. 20812
(301) 320-5068
boliviayperu@hotmail.com
Bolivia - 2020 - News Articles
Cick to choose
NOTE: Links in articles to original sources may no longer work.
BOLIVIA - 2020 NEWS ARTICLES
BOLIVIA - Jul to Dec 2007 NEWS ARTICLES



September 2020
Cabinet ministers quit in crisis for Bolivia president September 28, 2020 - AP News
He's not running, but Morales looms large in Bolivia vote September 26, 2020 - Washingon Post
Bolivia's left could win an upcoming election. U.S. Democrats don't want a repeat of last year's crisis. September 22, 2020 - Washington Post (AP)
Bolivia interim president withdraws from presidential race September 18, 2020 - www.france24.com
Bolivia: Justice System Abused to Persecute Opponents September 11, 2020 - www.hrw.org
The Best Answer to Chaos in Bolivia Is Socialism September 9, 2020 - New York Times
Bolivian court denies former leader Morales' bid to be Senate candidate Septmber 8, 2020 - Reuters
Congress should investigate OAS actions in Bolivia Septmber 4, 2020 - thehill.com
Bolivia hires U.S. lobbying firm accused of fake news by Facebook Septmber 3, 2020 - Reuters
Virtual schooling in pandemic sharpens divide for Bolivia's poor Septmber 2, 2020 - Reuters



August 2020

Bolivia's Biker Squads Are Like a 'Hyper-Armed Version of the Proud Boys' August 31, 2020 - www.vice.com
If democracy is restored in Bolivia, thank protesters and not the U.S. or the OASAugust 8, 2020 - Washington Post
As Politicians Clashed, Bolivia's Pandemic Death Rate Soared August 26, 2020 - NY Times

Evo Morales: Exiled Bolivian ex-president accused of rape August 21, 2020 - BBC
Protesters paralyze Bolivia over election delays, threaten escalation August 12, 2020 - Washington Post
Protesters block Bolivian roads after Covid-19 postpones election August 8, 2020 - Financial Times
Bolivians Under Blockade as Protesters Choke Access to Cities August 7, 2020 - NY Times


July 2020
BOLIVIA - 2020 NEWS ARTICLES



Links to original sources were workng when posted, but may have been removed since then.
For this reason, articles are posted in full here, where possible.
---