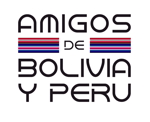 About Us
Mission / Fiscal
Board of Directors
Kantuta Fund
Join Amigos
Related
50th Anniv


News

Newsletter
Noticias
Yachaspas
Submissions
Other
Photo Album
Links
AMIGOS DE BOLIVIA Y PERÚ
7327 University Avenue,
Glen Echo, MD. 20812
(301) 320-5068
boliviayperu@hotmail.com
Bolivia - 2020 - News Articles
Cick to choose
NOTE: Links in articles to original sources may no longer work.
Bolivian Coca Cultivation Jumped by 10% in 2019, UN Says July 29, 2020 - NY Times (AP News)
Bolivia delays presidential election due to pandemic July 23, 2020 - AP News
Desperate Bolivians seek out toxic bleach falsely touted as Covid-19 cure July 17, 2020 - The Guardian
Bolivian sex workers using raincoats to keep 'safe' July 16, 2020 - BBC News
In Bolivia desperate family leaves coffin in the street July 4, 2020 - News.Yahoo.com
Bolivia in danger of squandering its head start over coronavirus July 3, 2020 - The Guardian




June 2020

Bolivia president signs off on September elections despite virus fears June 21, 2020 - Agence-FrancemPresse
Bolivia Gov't Threatens to Continue Closing Community Radios June 17, 2020 -

Telesurenglish.net

The coronovirus has gutted the price of coca. It could reshape the cocaine trade

June 4, 2020 - Americas Quarterly

Four Urgent Questions on Bolivia's Election

June 4, 2020 - Americas Quarterly

Bolivia electoral body says country to hold delayed elections by September 6

June 2, 2020 - Reuters

Is Bolivia's 'interim' president using the pandemic to outstay her welcome? June 1, 2020 -

The Guardian

From the Andes to Tibet, the coronavirus seems to be sparing populations at high altitudes June 1, 2020 - Washngton Post

May 2020
Bolivian orchestra stranded at 'haunted' German castle surrounded by wolves May 23, 2020 -

New York Post

Bolivian health minister arrested, fired over costly ventilators May 21, 2020 - Santiago Times

Bolivia rethinks how to industrialise its lithium amid political transition May 19, 2020 -

dialogochino.net

Bolivian City Gives Out Free Doses of De-Worming Drug in Bid to Combat Coronavirus May 19, 2020 -

NY Times

Campaign asks young Bolivians to 'adopt a grandparent' during coronavirus pandemic May 16, 2020 - Press Democrat (AP)

Bolivia needs an election, but covid-19 makes that hard May 16, 2020 -

Economist

Peru's Civil War Left It Vulnerable to the Pandemic May 15, 2020 -

foreignpolicy.com

Peru: Machu Picchu to reopen July 1 with free admissio May 13, 2020 -

andina.pe

Bolivia De-Facto Govt Repress Protesters That Can't Afford More Lockdown May 11, 2020 - telesurtv.net

Tensions Rise in Bolivia's Chapare as Government Escalates Anti-Drug Operations May 8, 2020 -

insightcrime.org

Bolivian Parliament approves law calling for elections in 90 days, defying interim government May 7, 2020 -

Rueters

Interim Bolivian President Accused of Same Autocratic Style as Evo Morales

May 1,

2020 -

U

.S.News
Bolivia: Self-Proclaimed President Rejects New Electoral Law May 1, 2020 - telesurenglish.net



April 2020
BOLIVIA - 2020 NEWS ARTICLES



Links to original sources were workng when posted, but may have been removed since then.
For this reason, articles are posted in full here, where possible.
---