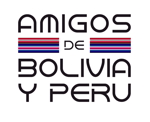 About Us
Mission / Fiscal
Board of Directors
Kantuta Fund
Join Amigos
Related
50th Anniv


News

Newsletter
Noticias
Yachaspas
Submissions
Other
Photo Album
Links
AMIGOS DE BOLIVIA Y PERÚ
7327 University Avenue,
Glen Echo, MD. 20812
(301) 320-5068
boliviayperu@hotmail.com
Bolivia - 2019 - News Articles
Cick to choose
NOTE: Links in articles to original sources may no longer work.
BOLIVIA - 2019 NEWS ARTICLES
BOLIVIA - Jul to Dec 2007 NEWS ARTICLES



March 2019
Every year on 'Dia Del Mar,' Bolivia celebrates the coastline they lost

March 22, 2019 - pri.org

How a populist president helped Bolivia's poor – but built himself a palace

March 7, 2019 - The Guardian

Bolivian Carnival: Devils dance the 'Diablada' in the streets of Oruro

March 2, 2019 - CGTN



February 2019
In Bolivia, a new generation of wrestlers in bowler hats

February 27, 2019 - Washington Post

Bolivia to offer free, universal healthcare by March 1

February 20, 2019 - UPI

La Paz, Bolivia's Emerging Wine Destination

February 15, 2019 - www.wiemag.com

Breathless in La Paz, the World's Highest Capital City

February 8, 2019 - CondeNast Traveler

Bolivia picks Chinese partner for $2.3 billion lithium projects

February 6, 2019 - Reuters

So Much Gas, So Few Allies Spells Trouble in Populist Nation

February 5, 2019 - www.Bloomberg.com






January 2019
In New Lithium 'Great Game,' Germany Edges Out China in Bolivia

January 28, 2019 - Reuters

Morales Moves Ahead With His Divisive Re-Election Bid in Bolivia

January 23, 2019 - worldpoliticsreview.com

The cynicism of Evo Morales reelection bid in Bolivia

January 4, 2019 - Washington Post






---



BOLIVIA - 2019 NEWS ARTICLES



Links to original sources were workng when posted, but may have been removed since then.
For this reason, articles are posted in full here, where possible.
---