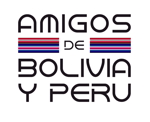 About Us
Mission / Fiscal
Board of Directors
Kantuta Fund
Join Amigos
Related
50th Anniv


News

Newsletter
Noticias
Yachaspas
Submissions
Other
Photo Album
Links
AMIGOS DE BOLIVIA Y PERÚ
7327 University Avenue,
Glen Echo, MD. 20812
(301) 320-5068
boliviayperu@hotmail.com
Bolivia - 2020 - News Articles
Cick to choose
NOTE: Links in articles to original sources may no longer work.
BOLIVIA - 2020 NEWS ARTICLES
BOLIVIA - Jul to Dec 2007 NEWS ARTICLES


November 2020
Bolivia Crafts an Austerity Plan as Solution to Economic Crisis November 14, 2020 - Bloomberg
Will Luis Arce Rebuild Bolivia's Broken Judiciary? November 24, 2020 - Americas Quarterly
Evo Morales Returns to Bolivia to Cheers and Worries November 9, 2020 - New York Times
Bolivia's Tarnished Savior (Dec 3, 2020 Issue) November 9 2020 - New York Review
Bolivia's new leftwing president: 'We have reclaimed democracy' November 8, 2020 - The Guardian
Bolivia's socialists sweep back to power as Arce sworn in as President November 8, 2020 - Reuters
In Evo's Shadow, Bolivia's new president Luis Arce promises moderate socialism November 6, 2020 - Reuters
In Santa Ana mayor's race, a shot at history with a Bolivian American candidate November 5, 2020 - Los Angeles Times




October 2020
BOLIVIA - 2020 NEWS ARTICLES



Links to original sources were workng when posted, but may have been removed since then.
For this reason, articles are posted in full here, where possible.
---