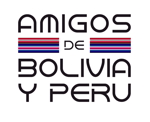 About Us
Mission / Fiscal
Board of Directors
Kantuta Fund
Join Amigos
Related
50th Anniv


News

Newsletter
Noticias
Yachaspas
Submissions
Other
Photo Album
Links
AMIGOS DE BOLIVIA Y PERÚ
7327 University Avenue,
Glen Echo, MD. 20812
(301) 320-5068
Send us an e-mail
Amigos de Bolivia y Peru welcomes Peru PCVs upon their return to the U.S.  We know, from our 2008 experience when all 130 PCVs from Bolivia were evacuated quickly, that this is an unsettling, often agonizing action.  Please contact us (glorialevin@verizon.net) so we can learn of your needs and attempt to assist you.  We share your love of Peru, always our second home.

Also, see letter below from NPCA President Glenn Blumhorst.

Gloria Levin, President
(RPCV, Arequipa, Peru)
Amigos de Bolivia y Peru





NPCA Response to COVID-19 and Peace Corps Evacuation

Through their personal stories and photos shared on social media over the last few days, an entire Peace Corps community has vicariously lived the shocking reality of 7,000+ serving PCVs evacuating from 60 countries around the world. This traumatic interruption of service is not the way a PCV envisions their service to end - with unfinished projects, unsung farewells, unrung COS bells, and unsaid goodbyes. 

To the PCV evacuees, my heartfelt sympathy. I share your grief. As you return home, know that there is an empathetic and caring Peace Corps community awaiting you with our collective embrace. We are thousands of returned Peace Corps Volunteers (including many whose service had also been cut short), former staff, host country nationals, family and friends who care deeply for you.

This unprecedented moment calls for an extraordinary response. Be assured that National Peace Corps Association (NPCA) is committed to providing the substantive support that our RPCVs deserve. We hear you and are responding. In the coming days, you can expect:

A collaborative effort forged among the Peace Corps agency, NPCA, and the greater Peace Corps community to support evacuated RPCVs upon their arrival home
A comprehensive Global Reentry program designed by NPCA especially for evacuated RPCVs with support and services tailored to their needs and expectations
Rollout of an array of academic and career resources to assist evacuated RPCVs in taking the next step in their professional pathways
Connections to an emerging RPCV peer support network and local RPCV groups to provide emotional, moral, and logistical support  
Updates on how, through NPCA, we can collectively advocate for the benefits and entitlements evacuated RPCVs deserve, as well to ensure the future of the Peace Corps

For those of us in the Peace Corps community who are able to provide financial leadership, the Benevolent Fund will enable NPCA to support urgent needs of evacuated RPCVs. 

This is an amazing and resilient Peace Corps community. Thank you for all you do to serve one another and the world.

I am at your service,

Glenn Blumhorst
NPCA President & CEO

---




Make money for Amigos de Bolivia y Peru!

Amazon donates 0.5% of the price of eligible Amazon purchases to Amigos.
AmazonSmile is the same Amazon you know.
Same products, prices, service.
Support Amigos by your Amazon shopping at http://smile.amazon.com.

---

Deceased PC-Bolivia & PC-Peru Volunteers/Staff

Below are listed RPCVs who have died in 2018 & 2019 that we know of or earlier that we just found out about. If you find a name listed, click on it to go to the page on this site listing all the deceased PC-Bolivia & PC-Peru Volunteers and Staff for whom we have information posted. You can always check there for others you may have known as well.

You will find this section using the menu on the left:
Go to RELATED ➞ Go to RPCVs ➞ Choose DECEASED PC Bolivia & Peru...
Listings are alphabetical by country.

If you have information about others who should be listed, please let us know at:
Amigos Email Thanks.

Bolivia: 2019 & 2020 Deceased

Bolivia: Newly Reported - Deceased Before 2019

Peru: 2019 & 2020 Deceased

Peru: Newly Reported - Deceased Before 2019

---


Peace Corps announces major changes to application process
Click on picture to see video


Amigos de Bolivia y Peru, Inc. is a nonprofit corporation, mostly of former Peace Corps Volunteers, affiliated with the National Peace Corps Association.

Membership is open to anyone interested in our activities for bridging contacts and cooperation between the people of Peru and Bolivia and the rest of the world.